Dyson is one of the brands that people go for in the market. They have been making high-quality, premium home appliances for a long time now and if you are not familiar with them, I'm sure you have encountered them somewhere while scouting for your next home appliance. They are popular for their vacuum cleaners and their air purifier fans.
The Pure Cool Tower Series (TP Series) is one of Dyson's air purifier line-ups. They made several series to cater different needs. If you are looking for an air purifier that's capable of cooling, the Dyson TP02 from Dyson's TP Series just might be the item that you're looking for. It is a 2-in-1 air purifier fan that's powered by Dyson's patented Air Multiplier technology and fitted with high grade air filters–360 Glass HEPA filter and Active Carbon filter.
If you want to know more about the TP02, you are on the right page! Read on as we discuss the features, qualities, and specifications of the TP02.
Air Multiplier Technology
Dyson is very proud of their Air Multiplier technology, a state-of-the-art technology that uses surrounding air and nine asymmetrically-aligned blades and a brushless electric motor to deliver 77 gallons per second of powerful airflow smoothly. The blades and the motor are all hidden inside the pedestal of the TP02 so there's no exposed fast-spinning blades that can cause injuries. 
The Air Multiplier technology makes it possible for Dyson to remove big blades and awkward grills altogether to achieve that one-of-a-kind bladeless design.
See Dyson TP02 on Amazon
Design and Dimensions
The TP02, just like any other Dyson fans, has a bladeless design. It is a tower fan that is 40 inches tall and weighs 8.4 lbs, perfect for large spaces. It has a narrow, oblong-shaped amplifier that looks clean and sleek without any visible fast-spinning blades and awkward grills that makes it easy for you to clean and maintain the device. It also has a sturdy pedestal that's free from any control buttons with the exception of the power button and the LED display.
This kind of design is unique to all Dyson fans and is very different from other brands which is why Dyson fans always stand out. They have a very minimalistic design that fits any modern homes.
Performance and Safety
The TP02 is among the safest fans in the market since its blades are all hidden inside its pedestal. Without the big, fast-spinning blades there's no need for protective metal grills as well.  It also has the Child Safe feature. A great feature to have especially if you have young kids and pets running around the house because it allows the machine to automatically shut down when tipped over avoiding future accidents.
Performance-wise, the TP02 is fitted with high-grade air filters and has been certified asthma and allergy friendly by the Asthma and Allergy Foundation of America. The TP02 has a 360 Glass HEPA filter that can trap 99.97% of microscopic particles, 0.3 microns in size, from the air including pollen, dust, allergens, and pet danders; and Active Carbon that traps bad odors, gases, toxins, fumes, and VOCs (Volatile Organic Compound).
Aside from improving the air quality in your homes, the TP02 can also serve as a fan and cools you on hot days. All you have to do is adjust its 10 airflow settings depending on your liking. It can also effectively circulate air across the room because it has an oscillation of 180 degrees. The TP02 is a powerful machine and you don't have to worry about it being noisy as well because it is, as powerful as it is, a quiet fan and it has been given the Quiet Mark accreditation.
Modes and Control
Since the TP02 does not have any control buttons except for the power ON/OFF button, it heavily relies on the remote control included in the box. Its remote control is curved and magnetized that fits perfectly on top of the TP02's amplifier. The remote control has the power button, air speed settings, oscillation control, and mode options.
Aside from the remote control, the Dyson TP02 can also be controlled via Dyson Link App and Amazon Alexa because it is WiFi-enabled. The Dyson Link App, which you can easily download on your mobile device, also serves as a remote control and notifies you about the TP02's activities. The TP02 also recognizes voice commands through Amazon Alexa.
When it comes to mode options, the TP02 has two options: Auto mode that automatically checks the quality of air, adjusts the airflow, and turns the device on or off; and Night mode that dims the display and sets the device to its most quiet settings.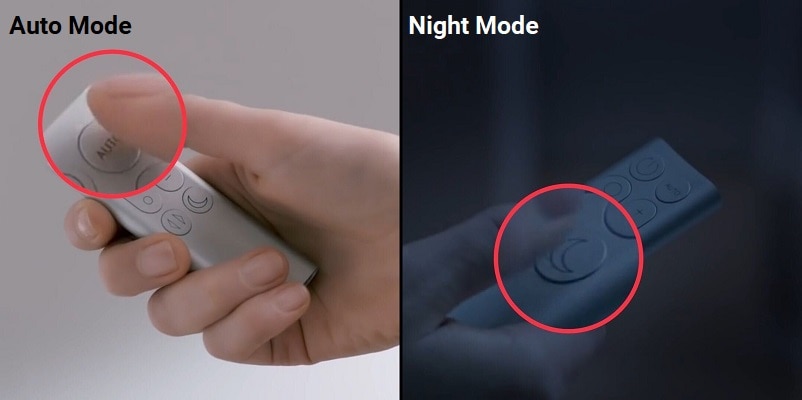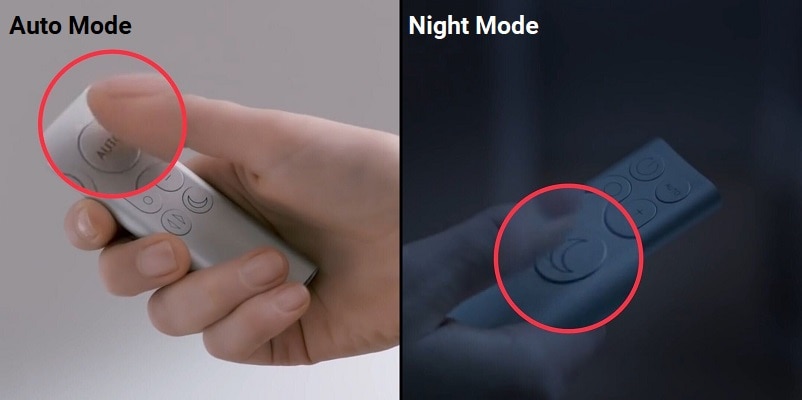 Features
| | |
| --- | --- |
|   | Dyson TP02 |
| Style | Tower and bladeless |
| Air Multiplier Technology | Yes |
| Cooling | Yes |
| Heating | No |
| Purifying | Yes |
| Auto mode | Yes |
| Jet Focus Control mode | No |
| Diffused mode | No |
| Night mode | Yes |
| Backward mode | No |
| Sleep Timer | Yes |
| Child Safe | Yes |
| Oscillation | 180 degrees |
| Accessories | Remote Control |
| Filter | 360 Glass HEPA and Activated Carbon |
| Display | LED |
| WiFi connectivity, Dyson Link App, and Alexa compatibility | Yes |
| Air Speed | 10 |
| Weight | 8.4 lbs |
| Height | 40 inches |
| Noise level | – |
| Price | Check on Amazon |
Alternatives
The TP02 is a 2-in-1 air purifier fan with a very unique design and makes use of the impressive Air Multiplier technology. And with great features, comes a great price. The TP02, while it is a very good air purifier fan, is an expensive machine and I believe that there are a lot of other brands that offer the same quality and power at a much lower price.
The Winix AM90 is a good alternative if you are looking for a cheaper air purifier. It is not capable of cooling but it is equipped with the same filter as the TP02. It also supports WiFi and is Amazon Alexa enabled. And for its price you will be getting a Plasma Wave Technology that breaks air pollutants like allergens, odors, and toxic fumes at the molecular level. Like the TP02, Winix AM90 also has an app called the Winix Smart App.
The Dyson TP01 is a great alternative as well if you are on a tight budget. Although it is a little on the expensive side, it is more affordable compared to the TP02. It also uses the same filter and the same Air Multiplier technology. It also has the same build and design as the TP02. The only downside that you'll be getting on this one is that it is not WiFi-enabled.
This air purifier is the cheapest among the list but it should not be underestimated. It is a basic, yet powerful air purifier. It is also very quiet and it is capable of improving the air quality in your home by filtering 99.97% of ultra-fine particles, as small as 0.3 microns, like pollen, mold, pet dander, cigarette smoke, pet odor, cooking odor,  PM2.5 pollutants, and smoke from a wildfire. And like the TP02, it is also equipped with a HEPA filter. On the down side, PARTU Air Purifier does not have WiFi and it is not multifunctional.
Frequently Asked Questions
Q. How much space can the TP02 cover?
A. The TP02 is capable of covering large spaces. It can cover up to 1,600 square feet.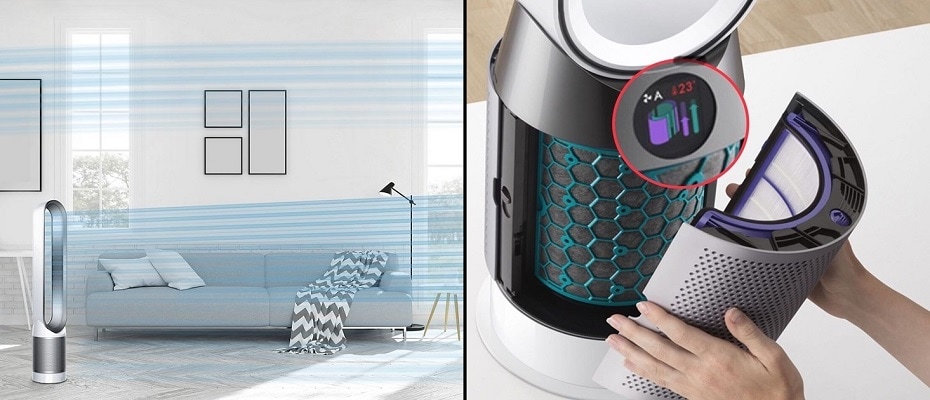 Q. How many times should the filters be replaced?
A. Dyson suggests changing the filters at least once a year but it is usually indicated on the display of the device when you have to change the filter already. Replacement filters are available at their stores. Authentic Dyson filter is recommended
Q. Can the TP02 cool the air more than an average fan?
A. Yes, the TP02 cools better than traditional fans with big, fast-spinning blades.
Q. Can I get a replacement filter for the TP02?
A. Yes, replacement filter cartridges are available on Dyson and in Amazon.
Q. Can the Dyson Link App control more than one device?
A. Yes, the Dyson Link App can control more than one unit.
Q. Is the TP02 loud?
A. No, the TP02 is a quiet fan and while it is a quiet fan, it is not totally silent.
Q. Can the TP02 block sound?
A. No, the TP02 can't block out sound. You may consult Dyson directly for further details.
Q. How much air can the TP02 clean?
This information is not published by Dyson but it is capable of purifying large spaces effectively. You may consult Dyson directly for further details.
Q. Does the TP02 get a 2-year warranty?
A. Yes, the TP02 has a 2-year warranty on parts and labor.
Q. Will the TP02 work even without filters?
A. No, the TP02 uses the filters to purify and improve air quality.
See Dyson TP02 on Amazon
What I like about the TP02
It is powered by Dyson's Air Multiplier technology.
A tower fan that has a unique, bladeless design.
WiFi-enabled and can be linked to the Dyson Link App.
Recognizes voice control via Amazon Alexa.
Among the safest air purifier fans in the market. It also has a Child Safe feature.
Certified asthma and allergy friendly by the Asthma and Allergy Foundation of America.
Has an oscillation of 180 degrees.
Equipped with high-quality air filtration system: 360 Glass HEPA filter with Activated Carbon, that filters 97% of ultra-fine particles, as small as 0.3 microns.
Has Auto mode and Night mode.
Has a curved and magnetic remote control that can be neatly stored on top of its amplifier.
Easy to clean and maintain.
What I don't like about the TP02
Verdict
I would recommend the TP02 to anyone looking for a great air purifier. It is a multifunctional machine that purifies all year round and is capable of cooling. Although it is a premium and expensive fan, for me, it is worth buying. It does its job well in keeping your air clean and it has a lot of useful features like the WiFi connectivity and the Dyson Link App. The Amazon Alexa integration will also come in handy if you have a smart home. The TP02 is also one of the safest fans that you can get your hands into. It does not have exposed fast-spinning blades and it has a Child Safe feature.
On design alone, the TP02 also gets a thumbs up from me. It has a one of a kind design that fits different kinds of homes, may it be modern or traditional, because of its minimalistic and clean design.
The overall performance of the TP02 is very impressive as well. It is equipped with a high-quality air filtration system that captures 99.97% of air pollutants, as small as 0.3 microns, making it a very ideal machine for people suffering from asthma and allergies, light smokers, and pet owners. As a fan, the Dyson TP02 delivers 77 gallons per second of  smooth and powerful airflow. It is also great around kids since it will automatically shut down when knocked over.